ATTENTION SERVICE-BASED BUSINESSES, COACHES, AND CONSULTANTS:
Are you ready to consistently generate hundreds of new, targeted leads each month and transform them into loyal customers with an extremely simple and proven sales system?
Cold calling, door-to-door sales, and expensive advertising are all things of the past with this MINDBLOWING automatic online funnel system!
Hi, I'm Ivan Ho and I'm a professional Business Marketing consultant.
Years ago, I discovered an amazingly simple sales funnel formula that has helped my business rise to amazing financial success and allowed me to help thousands of other businesses by providing a way to almost effortlessly gain tons of new leads daily!
While all the most successful companies use this system, it's not being taught to most business owners and entrepreneurs!
When it comes to generating leads, customers, and sales online, most companies create a website and look for traffic from social media platforms and Google SEO and hope they can make some sales.
Unfortunately, this strategy leads to NO leads, NO sales, and NO profit!
THERE IS A WAY TO DRIVE HUNDREDS OF LEADS TO YOUR BUSINESS!
The good news is that YOU can go from earning nothing, to making over half a million dollars every year!
Through this incredible 5-step funnel system, you can earn tons of leads and customers within the first 30 days of implementation without all the confusion and frustration!
The secret to online sale success is very simple.
Most entrepreneurs and businesses fall into one of two categories:
Minnows


Although they are hard working and determined, their business is a constant struggle. They live in a state of financial worry. They know they have a great product or service but they just can't get the message out there. They have a hard time earning enough money to pay the bills.

Whales


Like the minnows, they're hard working and determined, but, unlike the minnows, they live carefree lives, making six, seven, and even eight figures a year! They dominate their industry and have a consistent flow of leads and customers every single day.
HOW DO YOU ADVANCE FROM BARELY SCRAPING BY EACH MONTH TO BEING SUPER FINANCIALLY SUCCESSFUL?
It comes down to one simple thing -
Every successful business and entrepreneur has a reliable lead-generating system that brings in new clients on demand every month like clockwork.
SIMPLE PROVEN 5-STEP SYSTEM TO AUTOMATICALLY GENERATE A FLOOD OF NON-STOP LEADS!
Only two things really matter to become a successful service-based business, no matter what your industry.
Consistently generate hot leads from your service from a pool of people who already want what you're offering.
Consistently close these targeted leads at a very high rate.
What if you were able to finally avoid gimmicky sales strategies and not be overwhelmed by the magnitude of the internet by focusing your marketing on people who already want your services?
Then you could use just one simple funnel system to automatically generate leads for your business - even while you sleep!
You can attract highly targeted prospects to your company and close the leads over the phone by using a simple, yet highly converting customized phone sales script that turns your prospects into high ticket customers!
Not sure you can do this on your own?
I've been helping businesses and entrepreneurs like you set up these funnel systems for years and I use my one, proven and simple process to consistently generate up to 100 new customers a month for all my clients!

To create this automated lead generating system, we'll need to create a simple conversation funnel like this:
Use a Facebook ad to quickly and easily generate a consistent traffic flow every day.
Direct audience to a content page (article or video) explaining the your services and ending with an offer to schedule a free, no-obligation phone call.
Take them to an appointment page to where they answer a few questions see if they'll be a good fit.
Send these hot targeted leads to an appointment scheduler to pick a time and date for the phone call.
Close the leads with the call by using my incredible phone script that closes 60% of the prospects that gets on the phone with us.
This simple 5-step sales funnel is completely automated right up to the actual phone call.
The only thing you need to do is talk on the phone with your interested prospects and, with my incredible phone script, you'll be able to turn 60% of those leads into paying clients!
Now, most people want to completely automate their sales online without ever talking to a customer.
That just doesn't work for service based coaching and consulting businesses.
You must move the conversation OFFLINE.
This is why my unique, call-based funnel is the only system you'll ever need to generate tons of highly-targeted, interested leads every week and start growing your business to make more money!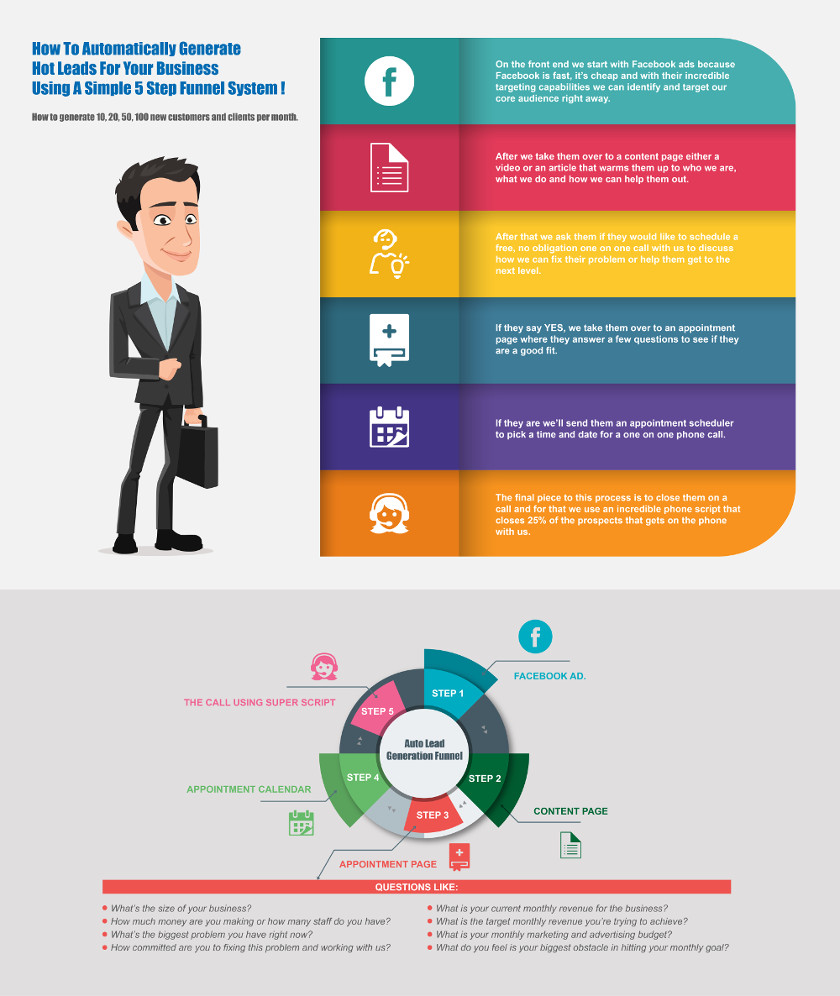 THE DETAILS
The Facebook Ad -


Facebook is the #1 social media site to find new clients for your consulting or coaching business with their targeting capabilities at a very low cost. You can utilize Facebook's amazing targeting capabilities to identify and target your core audience right away!

You'll pay Facebook $1 every time someone clicks on your ad.

The Content Page -


Start your content page or "value video" to relate to your leads by talking about the problem within your market niche, then provide some insight and information on how to fix the problem (like a short free consultation), then give them the option to talk with you over the phone to learn more.

10% of your leads at this point will take that offer up!

That means, if 1 out of 10 leads want to schedule a call, and you pay Facebook $1 per ad click, it costs just $10 to generate that lead!

The Appointment Page -


This simple fill-in-the-blanks questionnaire determines if the lead is a good fit to work with you. You want to sure that the leads are worth the time and effort of a phone call and have the potential to become clients. You can either accept their request and have a call with them or reject the application and not schedule a call.

The Appointment Calendar -


It's important to have an easy, simple way to schedule a good time to call your clients. With a good custom scheduling software, your clients can pick an available time right away without any communication and you can simply look on your calendar to see when your next call is!

The Call -


Now you talk with your highly targeted lead for 30 to 60 minutes to determine whether you can help them. You just have to follow our proven phone call process and script!

The unbelievable, amazing result is that 25% of the people you talk to on the phone will sign up and become paying clients!
This 5-step sales funnel makes the results and success of your business so predictable - imagine every day knowing that you're going to make money and that everything in your company will run like clockwork!
That's how I run my business and how I help my clients to run theirs!
Unfortunately, most business owners don't know this amazing 5-step process and so use "hope marketing."
Hope marketing is sitting at your computer hoping someone's going to find you or someone's going to give you a referral without having a marketing game plan.
That doesn't work.
The only thing it leads to is the failure of your business.
IF YOU DO NOT HAVE A WAY TO PAY MONEY TO ACQUIRE CUSTOMERS YOU DON'T HAVE A BUSINESS.
All you have is very expensive and a time-consuming hobby.
This was a major breakthrough for me in the past, and is for my clients too.
When you execute my 5-step funnel system correctly, the end result is that you'll have 5, 10, 20, 50 even 100 clients reaching out to you every single month asking you for help.
You'll have the freedom to just choose the best ones that you want to work with.
With this system, you'll start to have consistent traffic to grow your business.
You'll finally become financially free, and able to work from anywhere you want in any country because your clients will use their time and effort to flock to you, not the other way around!
Where Do You Go From Here ?
How would you like me to help you build your very own Automatic Lead Generation Funnel ?
Each month, I've set aside some time to talk to people, personally. There is no charge for this and there's no catch. If you enjoy the session and get value from it, we can discuss working together long term.
Most importantly you'll leave the session renewed, re-energized, confident and inspired to finally understanding how to generate leads on autopilot once and for all.
So if you're interested, please click the button below to schedule some 1 on 1 time with me.
* I have just 5 spots available each month, so sign up ASAP!