Meet Ivan Ho, An Expert Online Marketing &
Business Consultant.
Ivan Ho is the Founder and CEO of IMV Business Inc. An online marketing consulting firm that helps Entrepreneurs create a powerful online marketing presence that builds a connection gets their brand and product noticed.
"The secret to getting sales and results online, is to break away from the traditional outbound marketing tactics of focusing on the sale and to reverse that process of building a relationship with your audience, this I guarantee you will lead to better leads and higher conversions."
Ivan is a top online business consultant and speaker around the world. His expertise has helped hundreds of people increase their personal wealth and dramatically change their lives. Ivan has created many coaching programs and step by step blueprints that teaches new entrepreneurs how to succeed and profit online.
"My goal is to take your product, service and ideas and give you the best proven tactics, strategies and methods that allow you to succeed online, don't follow the cookie cutter approach, it doesn't work. Your business and the online world is organic, it moves and twists in different directions and you need to understand how to read these patterns in order to succeed online, I can teach you how."
Ivan is the author of 2 books Dot Com Profits and 25 Expert Tips To Blogging Success. He's also created teaching platforms such as Blogging Business Tips which is an online tutorial blog, OMT Wired Up which is a podcast featured on iTunes and Profit Insider Mastermind which gives weekly tips and strategies on how to increase your success with Internet Marketing, Email Marketing, Traffic Generation, Social Media Marketing and create a ton of wealth online.
Ivan's mission is to personally help 100 people each year to achieving a 6 figure annual income online.
If you would like Ivan's help, Click Here For A Free Business Review Session.
Ivan's Business Philosophy Includes:
Don't start until you ABSOLUTELY know who your target market and audience is.
CONTENT MARKETING is where you should put 90% of your focus in the first 30 days.
Listen to what the people and the marketing is telling you, NEVER guess.
Your goal is not to get traffic, it's to generate QUALIFIED leads.
SEO is good, but PAID TRAFFIC is the best.
Don't worry about the 5-10% conversion rate, worry about the 90% that are leaving your site.
High conversions = understanding DYNAMIC BEHAVIORAL MOTIVES.
If you are only able to sell to your customer once, you've FAILED at your job.
Build a connection and relationship, NOT a bank account.
Always challenge the STATUS QUO.
Ivan Has Been Featured In: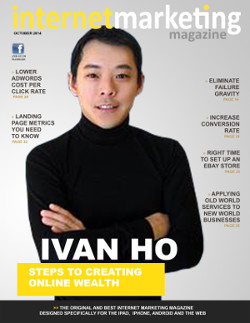 ABC News
NBC News
FOX News
CBS News
The Wall Street Journal
USA Today
The Boston Globe
The Miami Herald
LA Daily News
The San Francisco Chronicle
Washington DC News
Newswatch 50
Internet Marketing Magazine